Broken Harbor by Tana French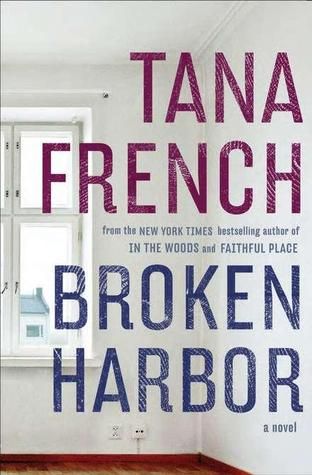 The perfect family: a very much in love husband and wife who were once high school sweethearts, their adorable daughter, and their precocious son. They live on a cul-de-sac, in a beautiful suburban home by the sea. Friends and family, laughter and play, the Spains are happy - absolutely, positively happy. Or are they? The children are found murdered in their beds, the parents stabbed in a blood drenched war zone that was once a bright and cheerful kitchen. As high profile of a case as there could be, Michael - "Scorcher" - Kennedy is assigned to the homicides in Brianstown, along with his temporary, on probation partner, Ritchie Curran, who has never before worked a murder. It doesn't take long for this seemingly straightforward situation to crack and fray, however.
Brianstown was once Broken Harbor, the very same town where Scorcher's family vacationed when he was a child and where his mother killed herself. The picturesque suburb is a shoddy, half-built, and largely abandoned development that is falling down around its residents' once hopeful and now dashed dreams. What was supposed to be a quadruple murder is actually only a triple homicide, for the mother's barely hanging on - something that should be a positive, but, even if she lives, she'll wake to a life in tatters. And, finally, circumstances aren't as cheery for the Spains as first portrayed: the father lost his job, the family's broke and waiting for the bank to take their home, and, speaking of the house, there's something strange going on under the Spain's roof; there are holes in the walls and baby monitors strewn all throughout the otherwise spotless abode.
No matter what the situation, French always presents unique, haunting mysteries in her books. While the Irish culture plays a role in this - especially for American readers, the truly compelling aspect of
Broken Harbor
- and this is a trait of all its predecessors, too - is how everyman the characters are. A writer who pens her mysteries with people in mind rather than the plot, a formula, or science, French delivers both victims and perpetrators familiar to readers. The Spains in their trials and tribulations, their predictableness and their peculiarities could be any young family. Toss in detectives who, rather than depending upon technology and specialized training, talk to piece together the story. They talk to family and friends, suspects, the surviving victim, and, perhaps most importantly, they talk to each other. Sure, there are techs who play a role in the investigation, but the evidence produced from these more scientific approaches merely compliments the relationships cultivated by Scorcher and the rookie Curran. In addition, the detectives' back stories dovetail with the mystery, lending more layers to an already complicated situation. Together, what French accomplishes with this recipe is an investigation readers can follow and participate in, versus being dependent upon an author's explanations and last minute, ah-ha reveals. What's more,
Broken Harbor
is a novel that will stay with readers long after its placed back on the shelf, because readers could be any of these characters - the detectives, the victims, even the killer, and that's frighteningly fascinating.
Four out of Five Stars