Prep by Curtis Sittenfeld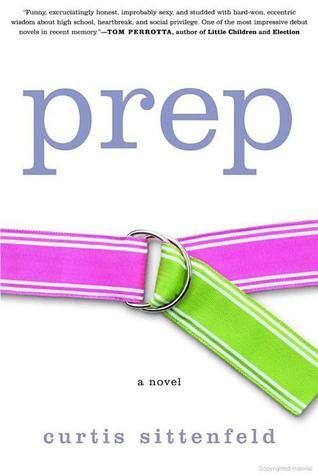 At thirteen, Lee Fiora presents the idea of boarding school to her parents. The smartest student in her public school class, she says that it will be a challenge and will offer her more and better opportunities. She sends for the brochures and applies, even with the knowledge that her parents can't afford the steep tuition... or perhaps that's a reason why she does submit an application. Low and behold, though, Lee receives a generous scholarship and accepts a position at Ault School. Despite admitting (at least to herself) that she was more infatuated with the pictures of what boarding school was like as advertised on the brochures, she leaves home anyway; despite later admitting that her private school fantasies started because of superficial desires planted at the tender age of ten, Lee never voices her doubts, leaving the very mid-western South Bend, Indiana for posh New England.
There, she spends her four years of high school coveting popularity but eschewing attention. While nothing is the way she thought it would be, it's also exactly what she expected. Lee struggles with her school work, socially, and in her relationships with her family. Yet, despite this, she doesn't leave. For four years, Lee fantasizes about what she wants her boarding school life to be like, but, after applying in the first place, she never actively tries to change or better herself or her situation. Instead, she just lets things happen as they will, a passive observer.
Prep
is a coming of age novel but one where the main character doesn't really come to any grand - or even minor - understanding of herself or the world. But this is okay. Actually, it's brave on Sitteneld's part and accurate, too. While there's a magical, fictitious aura of realization tied to graduating from high school - private or public, this couldn't be further from the truth. At most, this right of passage is just preparation for the unknown of college and adulthood. Lee Fiora epitomizes this idea. Told from her older self's reflective perspective, looking back at her four years in private school, though, prevents the novel from becoming frustratingly immature and simple as many lesser works that tackle the subject are known to do. What's more, Sittenfeld doesn't present a romanticized account of such an exclusive lifestyle.
While Lee admires her classmates' wealth and the opulence surrounding her, she's never allowed to forget that she's at Ault on scholarship. While she crushes on the same boy all four years of school - even believing herself in love with him, he uses her for sex. The girl doesn't get her prince; her fairytale doesn't come true. No, Lee is always aware of class, and race, and status, and the rules that govern such things. Because of this, even when it's uncomfortable,
Prep
is honest and insightful - a peak into another world that lets you know, no matter how well you may come to understand it, you'll never belong. It's a blessing, it's a curse, it's a realization that you're
never quite prepared for, no matter how wonderful the
Prep
is. And it's just that: wonderful.
5 out of 5 Stars