Stunning: A Pretty Little Liars Novel by Sara Shepard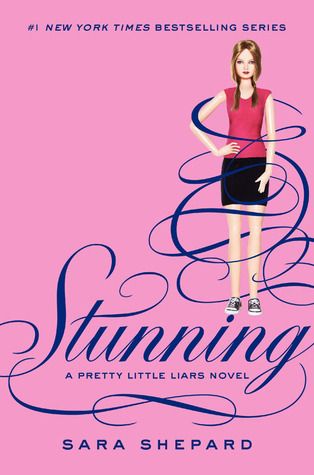 Sex, lies, drugs, drag, and murder: no, this isn't rock n' roll; this is Rosewood.
It has been a year and a half since Aria, Emily, Hanna, and Spencer received their first text message from A. Now, two A's later, they're back at the same church where they said goodbye to Fake-Ali, Their-Ali, and yet, again, they're connected to the murder victim. In fact, until the woman was shot, they believed her to be their latest tormentor, threatening the little girl Emily gave away for adoption, tricking Hanna into stAlking her ex's new girlfriend and making Hanna look a fool in the process, blackmailing Aria with the knowledge of her boyfriend's cross-dresser of a father, and sabotaging Spencer's chances of getting into her Princeton eating club of choice by dropping a little acid and Ritalin into Spencer's "pot"luck brownies. With each and every single plot against the pretty little liars, A's game seems to become just that much more dangerous.
And perhaps that's the most interesting aspect of this series. Despite the fact that
Stunning
is the eleventh
Pretty Little Liars
novel, it's always fascinating to see what A's going to dish out next. Unlike the television series, the A in the books is less dependent upon expensive stunts when it comes to terrorizing the girls, not only making her... or him... more believable but also more sinister as well. Rather than creepy dolls and custom Magic 8 Balls, book A uses knowledge of the liars and Aria, Emily, Hanna, and Spencer's inability to
not
put themselves in dicey situations to manipulate and harass the four friends. Shepard also does a better job of balancing the characters - equally featuring and torturing the girls. While it's natural for readers to have favorites, Shepard seemingly doesn't. No one liar is more central to the story than the others, and it never seems like one is ignored by A or given lighter punishment. It's also amazing to witness how charmed the girls' lives still are despite A, to see just how they're going to wiggle out of their latest spots of trouble. Despite the novels' darker nature, this sense of invincibility both adds a touch of innocence, resulting in escapism for readers, and it detracts from the books' veracity and, consequently, their reading value.
3 out of 5 Stars
The Lying Game by Sara Shepard


Seventeen year old Emma is a foster kid – abandoned by her mother when she was five and about to get kicked out of yet another foster home – when she watches a video of her long-lost identical twin sister being strangled by a locket necklace – bound, gagged, and blindfolded. Despite the less than ideal circumstances revolving around her discovery, Emma is ecstatic. To know that she's not alone in the world, to find a sister and the hope of finally having a family, Emma ignores her doubts and common sense, jumping on a bus to meet with her twin. Only... Emma's twin, Sutton, never shows up for their meeting, and Sutton's friends mistake Emma for her twin. Unsure of what to do... especially after she discovers that her sister has been murdered... and afraid, Emma goes along with the ruse voluntarily. And then her sister's killer starts to threaten her life as well: be Sutton or else.

Like with her first series – Pretty Little Liars, Shepard is not afraid to cloak The Lying Game in darkness; she's not afraid of creating truly deplorable characters – mean girls in the truest sense of the term. And this darkness makes for a seductive read. It's amazing how, while Sutton is an utterly unsympathetic character, the mystery surrounding her murder is still compelling – partly because her personality demanded hatred – ensuring a wide, far-reaching suspect pool – and partly because Emma is her twin's complete and polar opposite. Everybody has secrets, yet Emma is no more aware of them than the readers, allowing for a truly intimate reading experience. The novel is further complimented by its setting – the desert landscape and the lush, privileged lifestyle a believable background for a grisly murder. Perhaps the only thing which detracts from this book is its similarities to The Pretty Little Liars series, begging the question just what kind of adolescence did Shepard have?


Four out of Five Stars
Current Music:

"2080" by Yeasayer
Pretty Little Secrets: A Pretty Little Liars Collection by Sara Shepard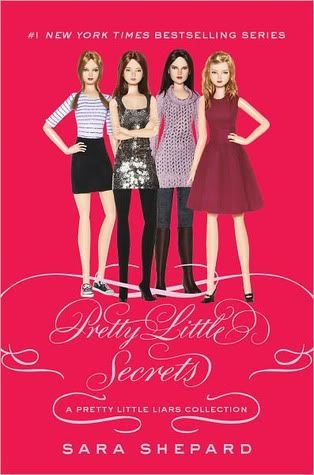 Pretty Little Secrets was more than just a little disappointment. Taking place during the winter break between the end of Mona's reign of terror and the beginning of Alison's, the book shows Hanna battling her body image issues yet again, Emily is desperate to replace Ali's friendship in her life, Aria puts herself in a vulnerable and dangerous position in her quest to feel needed and loved, and Spencer, true to form, competes with Melissa for the affections of a guy in order to mask the pain of not having the affection of her family. The Liars' motivations are true to form, the trouble they find themselves in because of their emotional pitfalls on par with everything else seen in the series, but there are two differences, and these differences are exactly what separates Pretty Little Secrets from the rest of the series... and not in a good way.

Whereas all the previous books had the girls interacting together, Pretty Little Secrets consisted of four contained storylines. Without picking favorites, this blending seen in previous works is necessary to balance out the characters' flaws and make the Liars less frustrating. It also lends the series a sense of camaraderie, especially because the readers can feel as though they are a part of this close knit group of friends. Without it, this book seemed more shallow. Secondly, there were no consequences to their secrets, their lies. The issues were resolved, and, though Alison was aware of them, it's far-fetched to believe that she would never have exploited those secrets, only the personality traits which caused them. This lent the book a lack of credibility. Plus, it did not feel as though it was written during the time frame in which it was set. What would have improved this was if the novel had been told from Alison as A's point of view. Not only would this have provided insight into a very influential character's motivations, but it also could have explained Alison's non-action, perhaps even humanizing her somewhat. After all, it's not like her identity needed to be protected in this work; her duplicity had long since been revealed in previous books.
Two out of Five Stars
Ruthless: A Pretty Little Liars Novel by Sara Shepard
The Pretty Little Liars series has been divided into three sets of novels, each featuring a different A. What makes this third set of books stand out from the others is how... uninvolved and hands off the final A is (so far). Rather than attacking Spencer, Aria, Emily, and Hanna – making them do things and doing things to them, this A simply sits back, occasionally taunts, and allows the liars to do all his or her A work on their own. Because of their checkered pasts (to put it mildly), the four girls are paranoid and ripe for harassment, but what does this say about the third A? Perhaps it says that the girls' latest and last enemy is smarter than the others, but this style of attack also isn't as exciting or nerve wracking. In addition, readers surely become frustrated with Spencer, Aria, Emily, and Hanna. Not only have they not learned their lessons from A's past assaults, but their impetuosity is frustrating. If the girls would take a moment to think about their actions, to question their feelings and instincts, if they would simply use caution and common sense, then they wouldn't open themselves up to A's mischief nearly so easily. Restraint is certainly not their strong suit.

Take for example the relationship woes featured in Ruthless. Despite fearing the repercussions from their actions in Jamaica and having a new A to look out for, all four girls embark on new relationships in this tenth book of the series... or, in Aria's case, revisit an old flame. As Aria's former English teacher reenters her life, Spencer embraces her inner thespian... and her fellow thespian... in an attempt to solidify her Princeton acceptance. Meanwhile, Hanna impulsively begins a new romance with the son of her father's political rival, and Emily embraces her inner bad-girl, eventually crushing on the very same person Spencer suspects of being new A. And these dalliances aren't just passing fancies... or, at least, in the girls' eyes they aren't; they're the star-crossed, soulmate kind of love... for all the 2.5 seconds that they last. One of these instant relationships, however, was more frustrating than the others.

Unlike on Pretty Little Liars, the show, the Aria-Ezra romance was a passing storyline in the books. It was short lived and quickly dismissed in favor of more appropriate and more compelling entanglements for Aria. Unfortunately, Ruthless saw a return for the disgraced teacher. Initially, it was aggravating to see Aria so blinded by Ezra again, to see her making the same mistakes again, but Ruthless did something interesting: it showed Aria realizing just how wrong she and Ezra were together, perhaps even serving as Shepard's commentary upon the television series' portrayal of the relationship as well. Either way, the character of Ezra is gone and hopefully for good as Aria and her friends continue to fall further and further under the third and final A's wicked spell in the upcoming eleventh novel: Stunning.

Four out of Five Stars
Current Music:

"Just Like Heaven" by Dinosaur Jr.
Twisted: A Pretty Little Liars Novel by Sara Shepard
It has been a year since the house fire at the DiLaurentis' cabin in the Poconos – the house fire that the real Alison set in order to kill Spencer, Aria, Emily, Hanna, and Melissa, but the friends still don't feel safe. In fact, the girls aren't even friends at this point. They're older, though – seniors and applying for college, but the four Liars are certainly not wiser. They're still making those same mistakes which got them in so much trouble in the past. Spencer did something underhanded to get into Princeton; Aria's jealous streak is rearing its ugly head again; Emily is keeping an important part of herself not only from her family but from the whole world; and Hanna's sticky fingers are blackmailed into emerging once more. Oh, and then there's also the event which triggered their separation: Jamaica. But with A back to haunting and terrorizing the girls, what happened in Jamaica won't stay Jamaica for long.

Twisted really felt like the series reinvented itself, like Shepard hit the reset button. It also felt like it was setting the groundwork for the books to come. After all, A – whether a miraculously still alive Alison or some new all-knowing presence in the girls' lives – has yet to really do anything to them. Twisted featured no blackmail, no spilled secrets on A's behalf, and, in fact, the novel was quite coy about what exactly some of the liars' biggest secrets are. Whereas readers had gotten used to knowing all about the less than savory deeds committed by Spencer, Aria, Emily, and Hanna, Twisted, on many fronts, keeps its audience well in the dark, changing the series' entire dynamic. Instead of feeling like a conspirator with the girls, readers are now somewhat on the outside looking in. This certainly sets up well for the next book, inspiring intrigue and curiosity. Twisted also felt darker than previous novels in the series – the lies, secrets, and scandals racier and more dangerous. Yet, despite the horrible deeds committed by the four girls, Shepard still managed to engender sympathy for them. While this ninth installment might be twisted all right, readers should savor unraveling all the complicated turns and knots.

Four out of Five Stars
Current Music:

"Stupid Girl" by Garbage
Wanted: A Pretty Little Liars Novel by Sara Shepard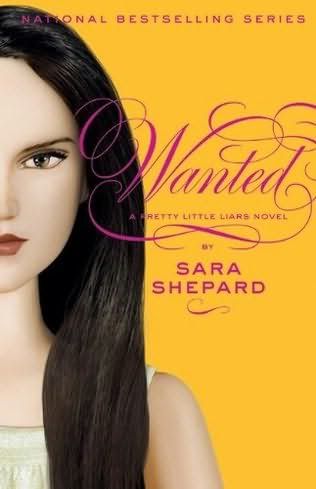 Back during the days when seventh grade was ending and summer break was beginning for Aria, Spencer, Hanna, Emily, and... Ali, a third DiLaurentis child came to Rosewood – Courtney, Ali's twin sister. Her parents wanted to see if all of Courtney's time in mental hospitals had helped her readjust. If so, she would come home and live with her family for good... only things didn't go as planned. Instead, Ali was murdered, and the DiLaurentises shipped Courtney back to the institution, and no one, especially not the Pretty Little Liars, were any the wiser.

Or is this really what happened?

Rather, maybe Courtney had come home briefly between hospitals during the same week when the girls had tried to steal Ali's time capsule flag. When confronted about their plotting, it had really been Courtney who talked to them, while, at the same time, Ali was mistaken for her twin and taken away to the institution. For two years, Courtney pretended to be her sister, dramatically dropping Ali's friends and taking up Aria, Spencer, Hanna, and Emily has her new BFF's. When it was actually Ali who came home to see if she had adjusted to the real world in order to live with her family, she killed her sister, went away as Courtney, and then eventually came back as Courtney again... only to reveal to the Liars that she – as Ali – was back; it had been Courtney who died in that gazebo hole.

Confused yet?

Either way, there are two glaring facts: one, the girls were duped – big time, and, two, no one should ever trust a DiLaurentis... except Aria, Spencer, Hanna, and Emily again made the same mistakes in Wanted that they made as middle school students, playing directly into Ali... and, seeing as how they were the same person, A's hands. Apparently, the girls haven't heard of a very important maxim: fool me once, shame on you; fool me twice, shame on me. Aria was the only one who didn't immediately rush blindly forward to be Ali's friend for a second time, but even she, too, caved once Ali set her up to believe that Aria's boyfriend had cheated on her... with and unwilling Ali. And Ali played similar tricks with the other girls as well, alienating them from everyone else but her and making sure that they were firmly under her control. She convinced Spencer that Melissa had killed Courtney; she made Hanna a laughing stock again with Kate, Riley, and Naomi; and she seduced Emily so that Emily believed Ali wanted to be with her romantically, too. All the while, she was planning her ultimate revenge.

Of all the books so far, of all the mistakes that Aria, Spencer, Hanna, and Emily have made since the body was first discovered beneath the DiLaurentises' gazebo foundation, the mistakes they stumbled through in Wanted were probably their worst, their most glaring. While forgiveness is an admirable thing, it isn't if it is offered blindly, foolishly, and that's exactly what the Liars offered Ali. Somehow, they seemed to immediately forget all those horrible, nasty things she had done to them when they were friends. They forgot what an expert liar, manipulator, and devious plotter she was. In fact, even before she had befriended them and used their secrets against them, she had essentially acted as though they were nonexistent. No matter which version of her story Alison fed them, the girls never should have fallen for her lies for a second time... yet they did, and, evidently, they're not done acting so gullibly. With no body yet to be found in the remains of the DiLaurentises' cabin, the Liars should not be settling so comfortably into their lives; they should never stop looking over their shoulders. Because of their naivete, it took a little joy out of reading Wanted. Perhaps the only good thing that has come out of Ali and A's mess in this book is the fact that the girls have finally really and truly become friends, and they are also getting their family lives back in order. But how long will the peace, quiet, and contentment last; how soon before A – whether Ali or someone new – strikes again?
Three out of Five Stars
Current Music:

"Lonely Boy" by The Black Keys
Heartless: A Pretty Little Liars Novel by Sara Shepard
A sent Hanna to a mental institution and Emily to Amish country. She... or he... led Spencer to believe that her mother killed Ali and Aria into holding a séance where its supposedly revealed that Ali committed suicide. Only, like always when A is involved, the clues are given with one twisted hand and then taken away with the other. However, despite this – despite the fact that A is terrorizing the girls to the point where Aria has declared A to be their worst enemy, A is also the only person, apparently, who is willing to tell the girls the truth... or at least some of it through cryptic texts and manipulations.

By sending Hanna to the institution, A revealed that maybe Ali had once been a patient there. Meanwhile, Emily learned that Wilden had once been Amish and that his Amish girlfriend had disappeared around the same time as Ali while she was visiting Lancaster. Similarly, through A's games, Spencer learned of her father's affair with Alison's mother and discovered that Alison was her half sister, and Aria received clues that perhaps all was not what it seemed concerning the DiLaurentis family, especially Ali and her brother Jason. While these revelations clear former suspects' names – including the Liars', they also make the Rosewood Police Department's latest arrest of Billy Ford questionable. If nothing else, though, one thing is certain: there are still plenty of secrets being kept by and kept from Aria, Spencer, Hanna, and Emily.

Maybe readers don't know yet who A is, and perhaps Billy Ford really isn't even Ali's killer, but Heartless was probably the most intense, most revealing book of the series thus far. And the best part is that, once the secrets are exposed, it seems like they should have been obvious all along. While you might be shocked by a truth, you're not necessarily surprised. Everything fits so precisely together that, once all the intricate pieces are out in the open, they click seamlessly into place. One has to wonder and marvel at Shepard's meticulous plotting of the series. This is just another reason – perhaps the biggest – why these books are so addicting.

Note: I think Noel – and Aria's – reference to Poe's "The Fall of the House of Usher" is an important once. Perhaps it's a clue from Shepard to her readers rather than what is usually provided – those from A to the Liars.

Four out of Five Stars
Current Music:

"Green Aisles" by Real Estate
Killer: A Pretty Little Liars Novel by Sara Shepard
Sometimes, when reading a Pretty Little Liars novel, I find myself marveling at the girls' lives, disbelieving them. While I, too, hail from Pennsylvania, my hometown is the antithesis of the fictional Rosewood – fictional being the all-important word there, because there are moments when I question whether such places could really exist. But they do. Shop for real estate in the towns which dot the real Main Line outside of Philadelphia; check out the King of Prussia mall which the series' King James mall is based upon. Hollis could easily be Bryn Mawr. It's just that Aria, Spencer, Emily, and Hanna's lives are so far removed from what I consider normal... and I'm not just talking about the secrets and lies; the entire setting verges on the fantastic for someone who, at best, was raised in a middle class family environment. Rather, it's the opulence, the sense of entitlement, the galas, and the absolute disregard for the rules that the rest of society follows, but these are all stereotypes found in any affluent society depicted in film and television or in books. Whether fair or not, stereotypes exist for a reason, and I think it's this shock and awe towards places like Rosewood which draw readers (in this case) into the Liars' world. While it can seem foreign, even alien, it's also appealing... even if we recognize that, despite the girls' every advantage, their lives aren't perfect either. At the root of their unhappiness – and ours – are the same, basic problems: communication and trust.

Killer picks up directly where the previous novel in the series left off with the girls convinced that they've found Ian's dead body... only the body has disappeared and they're eventually labeled as the girls who cried wolf in order to claim more of the spotlight. Things just continue to spiral out of control as the book progresses. While Aria finds herself yet another older man – this time, Alison's brother, Jason, Spencer's searching for her birth mother and getting scammed... or so it seems... in the process. Meanwhile, Emily finds out that her new boyfriend's mother hates her after she sleeps with him, and Hanna continues her popularity games with her step-sister Kate, all the while, though, the four girls continue to get texts and clues from A. Despite being burned in the past for failing to talk to one another, they continue to keep secrets, using A's words to further their own agendas rather than banding together, actually communicating, and solving the mysteries destroying their lives. Yes, some of this is motivated by their selfishness, but, mainly, it's inspired by their lack of trust in each other and their insistence upon giving their trust to the wrong people.

But there's the beauty of Shepard's books: readers don't know who to trust either. Everyone has an agenda. Basically, it boils down to two things. One, the girls know that they're not A; they can't say the same about anyone else. And, two, for whatever their personal reasons, they all have the same goals as far as A and Ali's murderer are concerned: they want them caught, stopped, and punished. For these reasons and these reasons alone – whether its lonely or not, Aria, Spencer, Emily, and Hanna need to shelve their reservations, put aside their personal lives, and truly start to work together to figure out what's really going on, because, as of now, A's winning. A always wins, and, until the Liars start to communicate and trust each other, A will continue to have free reign to do whatever A wants.
Four out of Five Stars
Wicked: A Pretty Little Liars Novel by Sara Shepard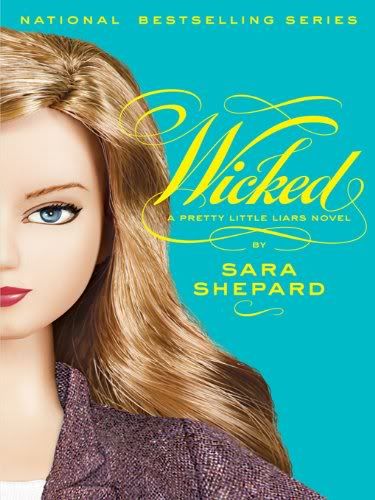 Several months have passed since Ian's arrest and the reveal that Mona was A and her subsequent death, but the Liars' secrets are nowhere near as cold and as frozen as the winter Pennsylvania weather. Aria has a new love interest... only he's the same guy her mom's dating; Emily is once more confused about her sexuality and dating a boy; Hanna is making nice with her step-sister in an attempt to ruin her before she can be hurt; and Spencer is uncovering her family's secrets after her grandmother excludes her from her will. New A is taunting all of them, but history has a way of repeating itself in Rosewood as the girls try to deny what is happening to them and avoid each other and the truth.

Although the Liars continue to make the same mistakes in Wicked, their decisions, for the most part, are justifiable and understandable. Between fearing the repercussions of their actions, of their secrets, and A's vengeance, the girls try to choose the lesser of two evils but still get burned. Because of this, Shepard's plot remains fresh, her mysteries still engaging. She isn't afraid of pulling the rug out from underneath her characters, and she realizes the girls will still be compelling even if they do despicable things... perhaps even more so. With no Mary Sues or Gary Stus in sight, this series continues to chug along at a fast-clipped, page-turning pace.

Four out of Five Stars
Current Music:

"Weird Fishes/Arpeggi" by Radiohead
Unbelievable: A Pretty Little Liars Novel by Sara Shepard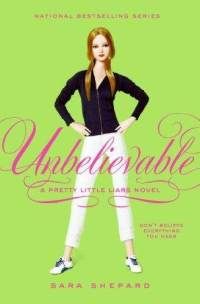 The last time I read a Pretty Little Liars novel, I was a Pretty Little Liars – the show – virgin. Now, however, the same cannot be said. While I do believe it is possible to read and watch at the same time, one almost has to observe them as two separate – albeit similar – entities. There are so many differences between the books and the show that time needs to be allotted so one can re-acclimate themselves to whichever they are consuming at any given time. Even the four main characters' personalities are slightly contrasting between the books and the show. While I appreciate and enjoy both, the books are certainly darker, whereas the girls' characterizations on the show are, in comparison, whitewashed. With this said, though, let's tackle the fourth novel in the series: Unbelievable.

At first, I felt that Unbelievable started off flat. With the girls separated geographically from Emily, consciously from Hannah, and emotionally from Spencer, there was a disconnection between the storylines and, more importantly, their characters. At the heart of this series, I think the most important aspect of all the various secrets is the girls' friendship... both pre and post Ali's death. Luckily, Shepard didn't keep her four heroines separated for long, reuniting them quickly. Although it could be argued that these distances were bridged rather easily, given the other obstacles the girls face and how unappealing the separations were, this rapid plot movement didn't hinder the book. However, even after the four girls came back together again, their relationships with each other and others were already altered.

In comparison to the conclusion of book four, the beginning – no matter how memorable because of its flaws – was extremely overshadowed. Shockingly, Shepard revealed both Ali's murderer and, perhaps more importantly, A. Or did she...? If nothing else has become apparent after four Pretty Little Liars novels, things aren't always what they seem in Rosewood for Aria, Spencer, Hannah, and Emily. Clues are tossed to them only to be ripped away and proven false; they're made to feel comfortable only to be thrust out into an emotional tundra over and over again. Red herrings run rampant through the series, so it wouldn't be a surprise to find out in the fifth book that what the girls thought to be finished at the end of the fourth was really just an illusion, a grand trick to further torment them. If nothing else, all four of them still have secrets, and, obviously, they have yet to learn the lesson that, in Rosewood, secrets just aren't allowed... at least not for them.

Four out of Five Stars
Current Music:

"The Suburbs" by Mr. Little Jeans