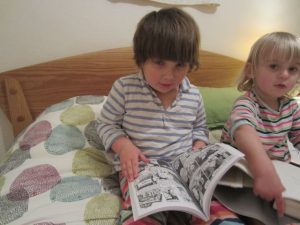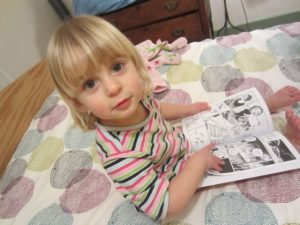 Bad Houses finds readers outside its target demographic,* is reviewed along with several excellent titles from Portland creators in the Mercury with a memorable headline, and makes the iBooks Best of 2013 Comics & Graphic Novels list (warning: that link will attempt to open iTunes). So I felt compelled to document via screenshot: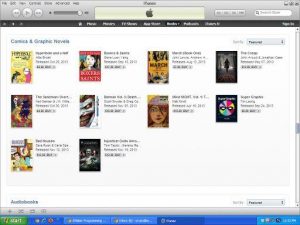 N.B. If you're looking for it inside iTunes/iBooks, you'll have to scroll past several other categories, but trust me, it's there!
And the event: I'll be at Cosmic Monkey Comics from 12-2 on Saturday 12/21 along with several other folks, happy to sign copies of Bad Houses for you, your loved ones, and/or any hoarder friends you want to passive-aggressively troll.
* I do not actually recommend giving the book to small children, nor does my friend who sent the photos. But they're pretty darned cute, aren't they?
Originally published at sararyan.com. You can comment here or there.
"In pretending to stand for "the human," masculine subjectivity tries to force us to name our truths in alien language, to dilute them; we are constantly told that the "real" problems are those men have defined, that the problems we need to examine are trivial, unscholarly, nonexistent.
Any woman who has moved from the playing-fields of male discourse into the realm where women are developing our own descriptions of the world, knows the extraordinary sense of shedding . . . someone else's baggage, of ceasing to translate. It is not that thinking becomes easy, but that the difficulties are intrinsic to the work itself." Adrienne Rich

Quoted in How to Suppress Women's Writing by Joanna Russ



A
launch party
for
MORE THAN GOOD ENOUGH!
I'll be sharing prizes, book giveaways and behind-the-scenes goodies.
hope to see you there!
January 11, 7pm
BOOKS AND BOOKS
265 Aragon Avenue
Coral Gables, Florida
33134
305.442.4408
http://www.educationreformillustrated.blogspot.com/search?updated-min=2013-01-01T00:00:00-08:00&updated-max=2014-01-01T00:00:00-08:00&max-results=43
I am hopeful, when I read postings from other folks, that perhaps the word about CCSS is getting out there ahead of some of the giant PR machine they have built. Then, I see something like the promo ad "60 Minutes" did for the NSA and realize we have much more to do to change the tide in educational policy. So, from time to time, I will try to post links to other voices aside from mine. I am hoping we can create not just a cacophony but a symphony. To that end, here is a link to one person's response to the Arne Duncan comment about white suburban women and their consternation over discovering their darling children were not as smart as they believed them to be (and, really, where was the heartfelt apology for that comment which was wrong on every single level possible?):
http://www.cameronblazer.com/dear-secretary-duncan-my-common-core-objections-are-not-about-race-or-class-or-gender/
. Here is the money quote:
"The problem with the Common Core is that the conversation and its terms have been shared among the fewest of people. The Common Core standards are not the result of a national conversation. They are not the product of broad-based public agreement. They are the product of a well-funded, largely opaque process organized and managed by a tiny handful of people."

Let's make sure that the voices being raised in concern over CCSS are not from a "silent majority" to borrow a phrase from the past. We are becoming mired in press coverage, ad machines, and voices who have a national platform. Many of those who are getting the spotlight have less classroom experience than even the newest teachers in your school (5 weeks for the TFA folks). Lift YOUR voice. Talk about the great things you are doing. Tell parents. Tell administrators and school board members who might listen. Share ideas. Call out BS when you spot it. Become part of the symphony.
I enjoy this blog often as the author, Clyde Gaw, includes cartoons, info graphics, and text to show the many levels and layers of education de-form/reform. There are links to other blogs and organizations including BATS.
Current Location:

home!

Current Mood:

artistic
You can see the rest
here
:)
Preview:
Busman's Honeymoon: A Love Story with Detective Interruptions
by Dorothy L. Sayers.
The last Lord Peter Wimsey novel, in which she finally marries him off and is rid of him. (He will appear in print once more, in a short story, and unpublished one will be written. But no more novels.)
(
Read more...
Collapse
)
audrey_e
at
Book 47: Voyage au Bout de la Nuit / Journey to the End of the Night
47 VOYAGE AU BOUT DE LA NUIT / JOURNEY TO THE END OF THE NIGHT Louis-Ferdinand Céline (France, 1932)
The life of Ferdinand Bardamu - an anti-hero and self-proclaimed coward - from his involvement in the Great War, to his life in the African colonies, his experience working for a Ford factory in the United States, and his return to France as a medical doctor in an asylum.
Céline's semi-autobiographical first novel is one of the most haunting texts I've ever read. His writing style combines slang with some deeply lyrical passages; the emotions are raw, disturbing, embarrassingly familiar.
The main character's experience of trench warfare is a trauma that sets the tone for the entire novel. Because of the great war, Bardamu is a pessimist, and yet his refusal to die, arguably despite the moral cost and the ugliness of life, is what pervades his journey; a journey that ultimately goes to the heart of human instincts.
Louis-Ferdinand Céline was no doubt a terrible human being, but this book is a must-read for anyone interested in 20th Century literary fiction. His work clearly influenced many of the great writers who came after him, such as Kurt Vonnegut and his
Slaughterhouse-Five
(the similarities between the two novels being very obvious).
5/5
Originally posted by