Queen of Swords
by Sara Donati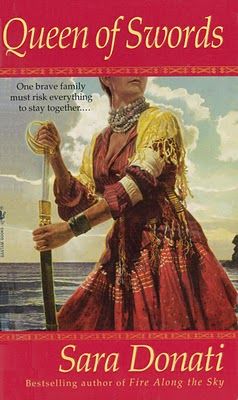 It took more than a year for Luke and Hannah to find and rescue Jennet, to dispose of her abductor. After so long in captivity, the Bonner siblings had no idea in what condition they would find their wife and sister, respectively. No matter what, though, they'd be able to finally go home, to leave the sea behind, and heal together at Lake in the Clouds. Only, there's more to do than merely save Jennet and dispose of her kidnapper; unbeknownst to Luke and Hannah, when Jennet was taken from them, she was carrying a child, a child that she, upon fearing for the baby's life, placed in the care of a stranger. To recover their son, their nephew, Luke, Jennet, and Hannah begin the second leg of their journey, traveling first to Pensacola and then to New Orleans. There, a maelstrom of complications await them, including the bemusing Creole culture, disease, and a looming battle between the Americans and the British, the war of 1812 raging around them. In order to be reunited with baby Nathaniel, the Bonners find themselves pitted against one of the first families of New Orleans - the cruel and sadistic Honore Porterin and his equally as crazed grandmother - and depending upon the kindness of old and new friends and strangers alike. It's a whole new wilderness for the Bonners to conquer, one that couldn't be further from the endless forest they know and love so well.
From the very first pages of
Queen of Swords
, adrenaline starts pumping, and it doesn't let up. There are no lulls in this novel. Rather, it's constant action and meaningful suspense. While obviously a strength of the book, its true genius is in its setting. New Orleans, despite its balmy weather, breathed new life into this series. Though always enjoyable, the change in location allowed Donati to explore a new culture, putting the unique Bonner perspective to use in interpreting not only the relationships between Creoles and both Americans and the British but also their slaves, free blacks, free blacks who own slaves, quadroons, Indians, and those Indians of mixed race. Plus, New Orleans gave her a playground of new characters to introduce. Finally, by removing Luke, Jennet, and Hannah from everything they knew, the characters were allowed to grow, especially the two women. Jennet grew up, and Hannah was finally able to make peace with her past. She did this by moving on, by letting go, by returning to herself while rediscovering who she was, things that just didn't seem possible back in Paradise. By relocating the story to New Orleans, at least temporarily, Donati was also able to quickly and efficiently progress the story for the rest of the Bonners back in New York as well, relating what Luke, Jennet, and Hannah missed through letters. Combined, everything sets up for the next phase of this family's tale, now properly spiced with a little foreign flair and fresh blood as everyone reunites in
The Endless Forest
.
Four out of Five Stars