The Girl Who Played with Fire by Stieg Larsson



I read and reviewed the first novel in Stieg Larsson's Millennium trilogy: The Girl with the Dragon Tattoo many months ago. Initially, I wanted to wait on the second installment until its US film version was released. My patience failed me before the movie even went into production, however. So, be warned. It will be a while before we can see The Girl Who Played with Fire brought to life on the big screen. (And let me tell you, forget about being able to hold off on the third and final novel in the series. This book is just too juicy to inspire restraint when it comes to The Girl Who Kicked the Hornets' Nest.)

It has been a year since Hedestad. Since Harriet Vanger. Wennerström. Since Blomkvist and Salander were lovers, friends, or have even seen each other. She left town and went abroad, and he continued to write, Millennium now a smashing success. Their paths once again collide when Millennium plans to publish an exposé into sex trafficking. After the article and book's author and his research partner/girlfriend are murdered, Salander is accused of the crime. She fights back the only way she knows how – alone, but that doesn't prevent Blomkvist from following her into "all the evil" that is her past come back to haunt her in the present.

Just like with The Girl with the Dragon Tattoo, Blomkvist and Salander spend much of the novel together in plot but separate physically. In fact, they only come face to face on the final page of the book. And, just like with its predecessor, Larsson devotes a good portion of The Girl Who Played with Fire to explaining the past. This time, it's Salander's history, and this time the summarization works, because, rather than being dumped on readers all at once, the details are constantly forthcoming throughout the novel and interspersed with plenty of action and character interaction. Even without meeting face to face, though, Blomkvist and Salander are still in sync with one another.

Thanks to her hacking skills and because of his insistence, the two eventually start communicating with one another. Together, they start to unravel the twisted story of a corrupt government and a global crime ring, all of which circles back to the very people who and the events that shaped Salander into the woman she is. To do this, Larsson introduces a cast of new characters along with bringing back others from the novel's prequel.

In his usual omniscient narrative style, Larsson slowly reveals a cover-up far more disgusting and haunting than that in The Girl with the Dragon Tattoo – a surprising feat. This makes for a compelling read, but it also means that The Girl Who Played with Fire is just the beginning. There's no resolution this time. Instead, Larsson leaves readers with the ultimate cliffhanger: a life dangling in the balance. Apparently, this is the tradeoff for an even better book. And his villains are said to be the sadistic ones…

Four out of Five Stars

Dead Reckoning by Charlaine Harris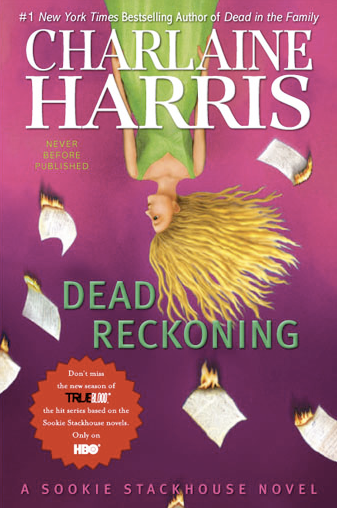 In this eleventh book of the Sookie Stackhouse series, the novel's heroine finds herself embroiled in yet another vampire take-over plot while attempting to decipher and understand her fae heritage. Toss in her concern for her shifter friend/boss Sam's new relationship, her worry for her telepathic second cousin, her wide-assortment of supernatural friends (witches, werewolves, and demons), her preparations for a human friend's baby shower, and the result is a book with enough plot points to make the dead's head spin... and so not in a cool poltergeist kind of way.
While it has been building for several books in this series,
Dead Reckoning
cemented the fact that Harris simply has too many plates in the air where Sookie is concerned. With so many supernatural entities and storylines, no single aspect can be thoroughly explored, yet, at the same time, everything still feels redundant. This is especially true when it comes to Harris' nasty habit of summarizing past events (and sometimes more than once). Given that this series is so light on the depth and so shallow with its vampire (and other supernatural) origin mythology, there really is no need to constantly reference previous books. If someone is reading
Dead Reckoning
, it's because they read all ten other Sookie Stackhouse novels, not because they decided to jump in at the tail end of the series. To make matters worse, Harris often gives her heroine a flip and snarky attitude when recalling these former happenings, and the humor just falls flat.
The Sookie Stackhouse series was never the most serious of vampire collections, but it certainly had its appeal. It was a light supernatural read with plenty of charm (mainly in the form of Bon Temps quirky, human characters) and sex. Unfortunately,
Dead Reckoning
was sorely lacking in both. In fact, it was rather anti-climatic (and pun intended, because the one time Sookie did have sex, it was awkward to read and not entertaining). By the end of the novel, Sookie has answered many of her questions. The problem comes from the fact that, in order to do so, readers had to endure so much tediousness in between. Plus, Sookie might have been curious, but that doesn't mean readers were as well. After such an offering, it's a relief to know that this series is ending soon. Hopefully, between books twelve and thirteen, Harris will find a way to redeem herself and her most famous character.
One out of Five Stars
Roses
by Leila Meacham
In a small town in East Texas, three families reign - The Warwicks with their lumber fortune, the DuMonts with their high-end department store, and the cotton planting Tolivers. Their friendship unites them; the rules of their friendship keep their bonds strong. Their businesses are never to mingle, loans between the families are never to be exchanged, and, if any party is ever wronged, a red rose for forgiveness is to be given, a white returned to symbolize that the apology has been accepted. For decades these unwritten laws were followed, but then sixteen year old Mary Toliver is made her father's heir, her mother and brother overlooked in favor of the only surviving Toliver with a passion for the family's plantation. It's because of this passion that Mary loses the only other thing she's ever loved as much in her life – a future with Percy Warwick. Sixty-five years later, she's determined to keep her great-niece from making her same mistakes and to prevent the Toliver curse of infertility and death from striking yet another generation. Unfortunately, Mary's actions might have the exact opposite effect.

Roses' jacket cover likens it to Gone with the Wind, but this is an unjust comparison which sets the novel up for inevitable failure. By likening Meacham's work to Mitchell's classic, lofty expectations are set, ones that Roses by no means delivers. Oh, the promise is certainly there. The book is a multi-generational tale stretching across families and decades. It takes place in a specific environment not often found today except for in the pages of such historical novels. And it contains great emotion, all things that are needed to make an epic, but an epic Roses certainly is not.

An epic doesn't just show its readers a story; it allows them to experience the story with the characters. Epics LIVE. Roses, on the other hand, glosses over what should have been the defining emotional moments. Not one, not two, but three wars feature predominantly in the novel's time frame and context, but not a single scene takes place on a battlefield or from a soldier's perspective. Instead, these great, monumental, life changing events take place outside of the book's pages and are merely mentioned in passing. This failure by Meacham produces a work that prevents readers from truly understanding why her characters do what they do. For example, rather than showing how powerful Percy's feelings for Mary are while he is away fighting during WWI, its mentioned as an afterthought. Books should show, not tell. This regretful trend is featured heavily throughout Roses. In fact, the author uses this same technique at the story's climax, offering little to no payoff to 600 pages of what could have been much more dramatic (and historically significant and honest) of a build-up. Sadly, Roses is a novel with unmet potential, an unworthy vehicle of the story it had the chance to tell.

Three out of Five Stars
Flash and Bones
by Kathy Reichs


It's race week at Charlotte Motor Speedway, and thunderheads are threatening when Temperance Brennan is called out to the track. Next to the famed venue, there is a landfill – a landfill that just so happens to have a set of remains recently unearthed from one of its mountains of rubbish. Based upon the body's location, it is presumed that the barrel containing the victim has been buried for at least ten years, but there's nothing cold about this case. It connects back to three missing persons – two of which have also been unseen for more than a decade, a disgraced former cop, the FBI, an extremist militia group, and, of course, racing. Due to the body's proximity to the track and its possible connection to the sport, the case quickly speeds out of control, pulling forensic anthropologist Temperance Brennan along for the ride.
In this series' fourteenth novel, Reichs slowly eases her heroine in a new and different direction. Although Andrew Ryan's presence is still felt, it's distant, fleeting. A phone call here, an email there, and a few passing thoughts about the detective are all eclipsed by the introduction of a potential new love interest for Brennan. While neither acts upon their attraction, it is certainly there, along with charisma and an intriguing back story on the part of the rookie character, perhaps setting him up to be the North Carolina sidekick to Ryan's Montreal status.

Apart from this development, however, what is perhaps the most interesting aspect of Flash and Bones is its setting: smack dab in the center of the NASCAR craze. A sport predicated on tradition, it is often associated with a very conservative fanbase, and Reichs harshly (justifiably) exposes and explicates this. For those who are not fans of auto racing (such as myself), the novel's social, political, economic, and psychological commentary on the sport will appeal. However, at the same time, through Brennan, Reichs also shows an appropriate amount of respect for NASCAR, so that followers of the pastime will be entertained as well. The author achieves a healthy balance in her portrayal of racing. What is not so balanced is Reichs' writing style. Very staccato in nature, the book features choppy sentence structures, abbreviated thoughts in the form of short fragments, and far too many melodramatic, chapter-ending cliffhangers. These things are fine – desirable even – in moderation, but, unfortunately, Reichs did not show temperance in Flash and Bones. The work is thoroughly entertaining but certainly not her finest offering.
Three out of Five Stars
Lake in the Clouds by Sara Donati
A decade has passed since this series last left off after Dawn on a Distant Shore and much has changed, not so much for the Bonners… though life has certainly continued for the family in that they have loved, lost, and aged… but in how Donati explores the Bonners' story. Nathaniel and Elizabeth are now supporting characters. Consequently, much of the book's action is presented from different perspectives – familiar in characterization but strangers in voice.
Primarily, the novel is split into three distinct sections. The first focuses upon a runaway slave and what her presence in Paradise means for the Bonners and the Freemans. Nathaniel and Elizabeth go into the wilderness once more to guide the woman and her unborn child to safety, knowingly bringing danger into their own family's life. Next, Hannah leaves Paradise for New York City, traveling with an ill Kitty and Ethan, to gain smallpox vaccination training. Finally, these two portions of the novel culminate in the third when both parties return home only to be thrust into a simmering racial battle fraught with revenge, secrets, and new relationships. To coincide with these three distinct portions of Lake in the Clouds, there are three main narrators: Hannah, Lily, and Jemima Southern – a recently blossomed woman, a child looking for her direction in life, and a bitter servant with an ax to grind, respectively.
With this introduction to the novel given, it is rather impossible to present a review without bringing the personal into my remarks. It has been nearly three months since I last posted, not because I wasn't reading during that time but because I wasn't reading (and finishing) this novel. Instead, I found myself constantly distracted (sometimes willingly and sometimes almost unwillingly) by other reading options. (Hello Downton Abbey fanfic, I'm looking at you.) And this wasn't because Lake in the Clouds is a horrible or uninteresting book… persay. While I realize this is certainly NOT a stellar recommendation, the truth of the matter is that, for a series which has been, up to this point, quite stellar, Lake in the Clouds was a disappointment, and, because it did not live up to its predecessors, the novel hurt itself by comparison. A separate entity, and I believe I would have finished the work much sooner, but I was disgruntled by the lack of Nathaniel and Elizabeth in Lake in the Clouds, and that disgruntlement just became a lack of interest in regards to new characters not related back to the Bonners' story, Hannah's medical endeavors, Lily's adolescent insights, and Jemima's interloping presence. One hopes that, next, when there is Fire Along the Sky, Donati will return to what made her series memorable and enjoyable in the first place – that she'll take her readers back into the wilderness (figuratively) again.
Three out of Five Stars
Testimony by Anita Shreve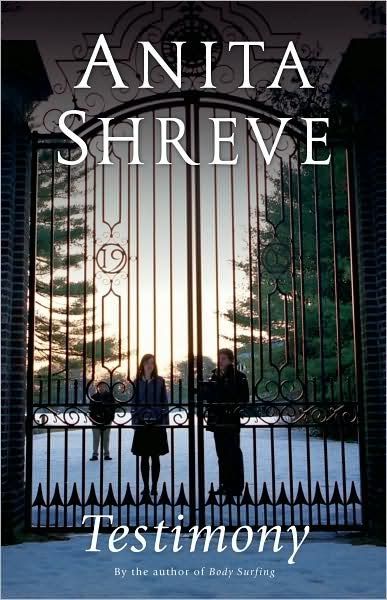 A headmaster of an elite, private school sits down to watch a confiscated tape, one his assistant told him that he needed to see. What he witnesses is almost beyond his comprehension: three, adult, male seniors and an underage freshman girl participating in various sexual acts. It doesn't matter that the girl appears not only willing in the tapes but also eager and encouraging, for she is only fourteen. The why's are immaterial, the actions illegal. So, he steps in. He speaks with the girl. He obtains written confessions from two of the three young men. And he attempts to conceal the scandal, keeping it from the press and the authorities. But, inevitably, the story leaks, and the damage that is inflicted is far worse than even the headmaster could have imagined. College plans are derailed, marriages end, and a life ends, too. What is truly fascinating about the situation, however, is the fact that, behind the scenes of the apparent tragedy, another action, one perpetrated by the headmaster himself, is the true root of the destruction and mayhem.
Within the first pages of her novel, Shreve immediately launches into the powerful, haunting event which inspires, as is her style, such rich and vivid character development throughout
Testimony
's entirety, and, per her usual approach, nothing is simple or cut and dry about the delicate topics addressed within the novel. The first chapter surgically details the footage found on the confiscated tape, and the story never looks back (figuratively speaking) or apologizes afterwards. The book is unapologetically dark and fascinating in its stark honesty. By the time the work draws to a close, all of the questions the tape posed have been answered, yet no hope has been given to readers in the process of doing so, but this is acceptable as it is the only emotional conclusion which makes any sense. This doesn't make
Testimony
an easy or even necessarily a pleasant read, though.
Part of the issue is in the way that Shreve tells the story. As the book's title alludes, the novel is set up as many different
testimonies
working together to tell a complete story. Rather than chapter numbers or titles, the author offers a series of character names as section headings, both jumping back and forth in perspectives and time. The result is a work which lacks any real sense of immediacy, despite the delicate situations at the heart of its story. These life-altering events are shared through recollections and silent musings, any conversations and dialogue between characters retold rather an experienced
with
the readers. Given such powerful material, the book's emotions should have been on the surface and immediately present for all to experience, but, instead, feelings are muted by time, perspective, and previously attained closure. In a way, Shreve did both her novel and her audience a disservice in how she set up
Testimony
. While certainly worthy of being read, the book leaves readers with a sour note, because it is obvious that, though engrossing,
Testimony
could have been even better.
Three out of Five Stars
Witches of East End by Melissa de la Cruz
Just like in her young adult series, in this book, Melissa de la Cruz presents a supernatural tale aided by mythology. Her witches aren't just magical; they're goddesses who possess a history that spans worlds and time itself. Focusing upon two sisters - Freya the carefree, beautiful bartender who dispenses love potions and Ingrid the staid and straight-laced librarian whose talent rests in talismans and spells - and their mother, Joanna, who boasts powers of restoration,
Witches of East End
explores North Hampton, a cozy, protected bungalow of a town, and the citizens who live there... including the Beauchamp women. When the ladies start to ignore the rules visited upon them that forbid them their magic, they get pulled into a larger web of sorcery, one which recalls the most fundamental and influential aspects of their long, complicated history.
This is all well and good. In fact, de la Cruz's use of mythological lore is
Witches of East End
's greatest strength. Unfortunately, however, she saves it until the very end of the novel, instead focusing the majority of her first foray into adult fiction on petty, human frailties. It is not a flaw that the book's characters are both good and bad. Rather, the problem lies in the fact that their less than desirable traits are so predictable, that their personalities and characterizations themselves are trite and unimaginative. In turn, this makes Freya, Ingrid, and Joanna's actions - mistakes and triumphs alike - just as unoriginal as well. Perhaps de la Cruz was aiming to create archetypes given the witches' roots in mythology, but this only would have been possible if she had introduced the women's backgrounds sooner and relied upon them more faithfully to shape her story.
Furthermore, the novel was hampered by de la Cruz including some of her characters from her young adult series. Yes, Freya was introduced in one of the
Blue Bloods
books, but she was a new character at that point without a pre-established profile. Conversely, Mimi and Oliver who played roles, insignificant though they were, in
Witches of East End
have established histories, including their own rather complex backstory... which was only hinted at in de la Cruz's first adult piece. Obviously, the author's intention was to intrigue readers who were unfamiliar with her YA series to read it as well, but what she ended up accomplishing was anything but. Instead, not only did she bog down
Witches of East End
with irrelevant characters and the distraction of a sideplot that had nothing to do with this particular novel, but she also failed to do the
Blue Bloods
series justice, a series whose development and pacing has been much more successful.
Finally, de la Cruz committed one last grievous writing mistake with
Witches of East End
: she gave it a deus ex machina ending. Admittedly, these characters ARE gods and goddesses, but what makes mythology so interesting and compelling is its pervading tragedies, not its happily ever afters. And yes, sure, in the book's epilogue, de la Cruz shows how things might not be a rosy and perfect as Freya, Ingrid, and Joanna think at the conclusion of the novel, but it is apparent that this was done to introduce a sequel rather than to give the work a more sophisticated and intriguing ending. For a book which, in its conception, has so much going for it - the Hamptons setting (very in vogue right now thanks to
Revenge
), the combination of the supernatural with mythology, and strong female leads, its execution is extremely dissatisfying.
Two out of Five Stars
Drive by James Sallis
Take a crime novel, strip it of almost everything that could be considered excess or unnecessary, and what's left is Sallis'
Drive
. Ebbing and flowing through time, each chapter is a scene. Sometimes, they're grisly; sometimes, they're nothing but a mere memory, but each moment is essential to the story. There are no passages of poetic prose to describe a setting and very few emotions to speak of. Everything is cold. Bleak. It's like living - no, existing in the dark, only for there to be brief, fleeting moments when the curtains are pulled back or, more accurately, a lamp is switched on, temporarily illuminating a precise moment before everything goes dark once again. And there's nothing beautiful in this book either.
Drive
is unapologetic about its ugliness, and perhaps this is why it is so fascinating. It's not unheard of for a book to feature a sympathetic antihero - either a vigilante seeking justice on someone else's behalf or a bad guy who has good intentions but just can't seem to find his way out of the bottom, but that's not Driver; that's not
Drive
. This novel is populated with characters who do varying degrees of bad things either because they want to, because they can, or because what else are they supposed to do. To the average person, it makes no sense - these decisions the book's characters make, but that doesn't mean that the story itself is incomprehensible. Rather, it's glaringly competent in its honesty, and, true to form, sometimes the truth can be shocking.
By day, Driver is a stunt driver; at night, he's a getaway driver. That's it, though. He doesn't do anything else on the jobs he takes; just drives. And this works for him. Job after job - whether professional or not-so-professional, he does what needs to be done, and he does so better than anyone else. But then something goes wrong, and it becomes personal for Driver. When things get personal for him, they also get messy, and, when things get messy, he starts to do more than just drive - at first because of necessity, and then because he chooses to do so. Through everything, though, he never loses sight of what he does best.
Likewise, what Sallis does best is create a mood for his novel with very few words. Despite Driver's skills and success, he lives a very simple, basic life that's essentially all about survival. This Sallis depicts through his emphasis upon the overabundance of food in
Drive
, upon his descriptions of the cars. Just like with his writing style, he doesn't include much beyond the necessities in Driver's life. These two things Sallis also uses to emphasize Driver's ability to adapt, to be a chameleon, taking on the habits of those around him - he eats what they eat; he drinks what they drink - and taking their vehicles as his own. Driver says what everyone wants him to say... which is very little throughout the book, making the silences themselves all the more powerful and important. Staccato and hopeless in nature,
Drive
's,
Driver
's, progression... if one can even call it that... is precisely what one would expect from a novel which recalls 1940's noir, but this doesn't make it any less fascinating or haunting, meaning that Sallis' work is one that will stay with readers for far longer than the actual reading experience lasted.
The only complaint against the novel is what also makes it so riveting: it's starkness. For those who relish rich descriptions, this book is enjoyable as a departure, but it could never serve as a benchmark for those readers' taste or preference.
Four out of Five Stars
Dawn on a Distant Shore by Sara Donati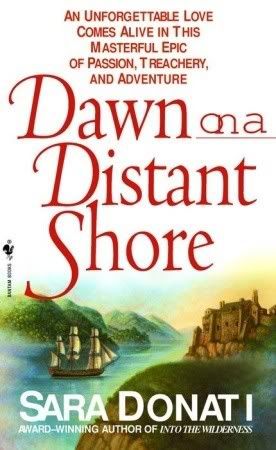 Despite changing the setting not only to a different country but also a different continent and introducing a whole new cast of supporting characters, Donati never loses sight of what made
Into the Wilderness
so special in her followup novel
Dawn on a Distant Shore
. After the Bonners learn of their connection to an heirless Scottish Earl, forces seem to conspire against them, taking the family across the Atlantic Ocean to confront their long lost relative. During their adventures, they face jail and charges of espionage; kidnappings, pirates, and naval battles; deception and trickery, but, through it all, Nathaniel and Elizabeth never lose sight of what is most important: each other, their family, and getting home. Together, they face the trials and tribulations thrown at them, never once falling victim to the doubt or misunderstandings that would plague a lesser couple. This doesn't mean, however, that the events which occur in
Dawn on a Distant Shore
are any less real or powerful, any less devastating.
Just like with its predecessor,
Dawn on a Distant Shore
has an epic feel to it. This comes from the sheer scope of Donati's work, the fact that these people who are attempting to live simple lives are thrust into such extraordinary circumstances and situations. It's present in her attention to detail, in the gravity of the emotions felt by her characters, and in the larger historical themes explored. It's found in the delightful cameos Donati includes - first Jamie and Claire Fraser in
Into the Wilderness
and now Robert Burns in
Dawn on a Distant Shore
. No small touch is left out; no unnecessary line or passage is included. Donati packs not only an immense amount of action into her books, but her characters are constantly evolving, changing, developing, too, and both of these feats are accomplished together seamlessly. From its very first page until its last,
Dawn on a Distant Shore
is a pleasure to read - one that begs to be finished but that makes you hate to see its beauty come to a close. Luckily, you don't have to, because the conclusion of
Dawn on a Distant Shore
sets the stage well for the next novel in this series as the Bonners return to
Lake in the Clouds
.
Five out of Five Stars
Current Music:

World Series Game One: Detroit Tigers vs. San Francisco Giants
The Town (Previously Published as Prince of Thieves) by Chuck Hogan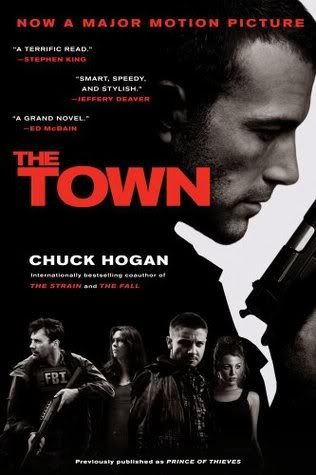 There is a disconnect with The Town's setting. Taking place in Boston during 1996, the story isn't quite historical fiction. Yet, at the same time, it can't be considered contemporary anymore either. Because most readers have lived through and remember those not-so-long-ago days, it is challenging to view such a modern decade as historical. Meanwhile, the out-of-date technology and pop culture references are obvious and disruptive, meaning that The Town is almost caught in a state of genre limbo. However, with this said, Hogan's novel is still riveting. Forget the time setting. Forget the genre. What makes for an exceptional book are interesting, layered characters and an engrossing plot, both of which The Town boasts.

Four Boston natives – sons of Charlestown, the famed Boston community deeply ensconced in criminal activity and the inspiration for the novel's title – hold up a bank, just one job in a long line of successful heists. At first the group's partnership seems impervious to outside influence or corruption, but the house of cards quickly starts to crumble when Doug – the mastermind behind the gang's illegal enterprise – falls for the same bank manager he and his fellow thieves terrorized and held hostage during the holdup. Finally connecting with someone, Doug slips far, far, farther away from his friends and criminal lifestyle, realizing that he wants more, deserves more, can be more, and is more when he leaves his past and Charlestown – including his partners – behind. All of this is made even more complicated by the FBI closing in on Doug's operation… and his victimized girlfriend. This – the book's premise – is compelling, but that still doesn't explain The Town's true appeal; it doesn't explain Doug.

Yes, he's a criminal and a recovering alcoholic. He steals from the rich to line his own coffers. He can be violent, he lies, and he threatens innocent people in order to manipulate and take advantage of them. But he wants to be better; he wants to love and be loved. There is this sense that, if someone could selflessly love Doug, he could be saved. It's the ultimate fantasy, a fairytale but with sharp realities and ugliness to give The Town an emotional edge. Doug isn't complicated, nor are his motivations difficult to understand or relate to. In fact, he's a classic character, but, because of his situation, Hogan places him under extraordinary circumstances and pressures. This sets The Town apart from other crime novels, historical dramas, contemporary works, and any and everything else. Sometimes an author must break the rules to write a memorable book, and The Town is remarkably memorable.

Four out of Five Stars